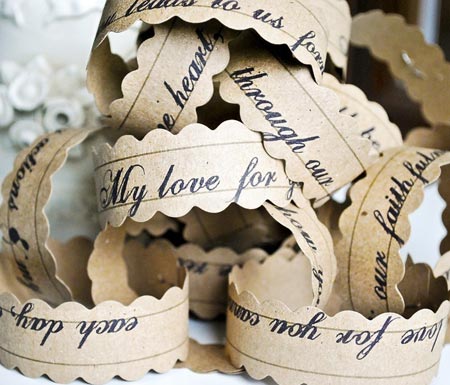 Paper is one medium that is always overlooked. So many ideas can be made of paper for your wedding! Don't forget small details, and little notes, labels, and even flowers. I think those little notions can be some of the most memorable things at a wedding. You want to stand out and make your guests remember how special your day was, and how much it meant to you that they shared it with you.
This isn't about paper, but its lace and I liked it!!! LOVE IT!
These little birds are such a fun theme!
This is a great idea for the budget savy bride. Paper is a great way to add something different, but still help stay under budget.
Check this out! I love this photography, and the cranes are just so neat. I know how to make them if anyone wants a hundred made for their wedding! I can make any size with any paper!! Just saying!
Oh wow, paper and lace, LOVE THIS!
The textures and colors, this is very inspiring, and its all with paper!
I think this would be a super easy and inexpensive way to make candles really glow. Wrap lace around the glass. Once the candles burn down, the lace will really allow the glow to shine through, I love this look. You can even use this for a party or in your home.
I just liked this photo.
Burlap and paper, this is too cool! It looks like real flowers, you have to look twice.